"Amazing Face Cream, Great Eye cream, Fabulous Natural Deodorant!"
" For 2 years I have been suffering from intractebale eczema - VERY red, bumps, looked like a tomato, sooo embarrasing. Even anti-histamines did not work. So I tried this for the anti-anging effects. The first time I used it overnight, the next AM, there was a noticeable difference. After a few nights I have noticed VERY smooth skin, almost NO bumps, and a SIGNIFICANT lightening in the redness...."
What are they saying?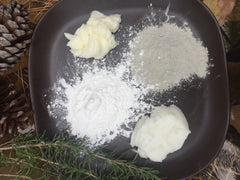 Shop all Products
All natural skin care products - 100% made in the USA. Hand crafted and hand made in small batches for the best quality and consistency.
Shop All Products